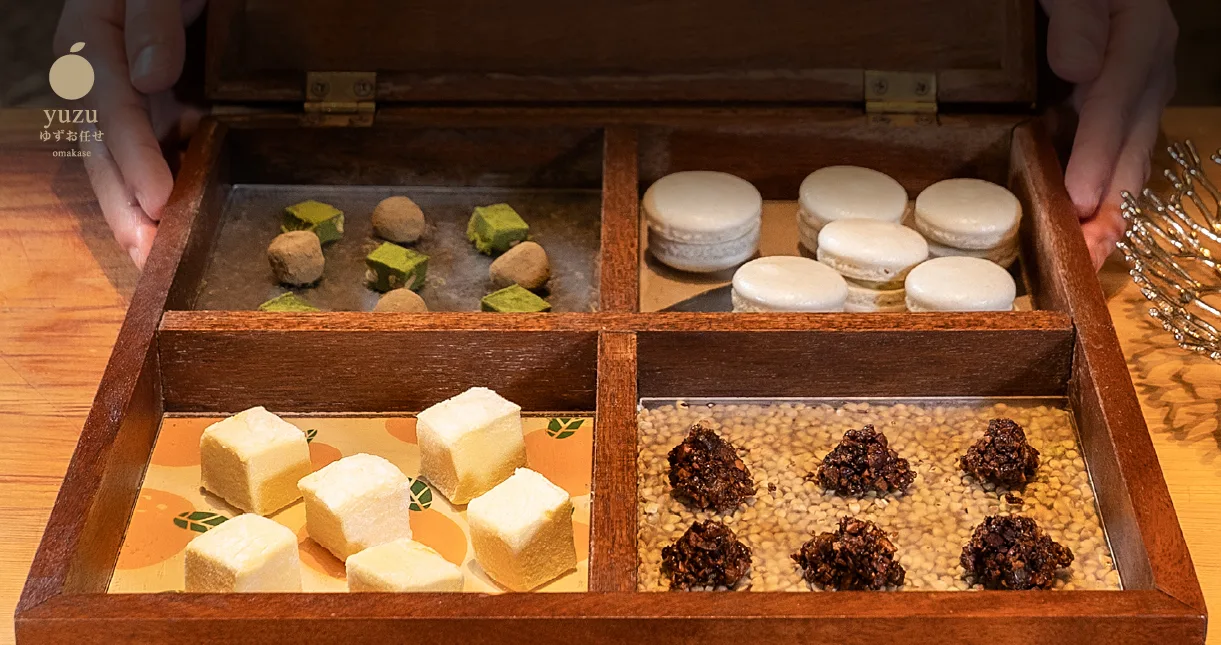 Thai-Influenced OMAKASE Desserts : Sweet Indulgences to Savor
A Sweet Tooth's Journey to Thailand
Well-Being ● 2023 Oct 12
Creating Thai-influenced
omakase desserts is a delightful way to incorporate the flavors and ingredients of Thailand into your multi-course dining experience. For delicious desserts, this is a must!
Mango Sticky Rice Parfait
This dessert combines the classic Thai flavors of ripe mango and sticky rice. Layered in a parfait glass, it can feature mango sorbet, coconut sticky rice, toasted mung beans, and a drizzle of sweet coconut cream.
Coconut Pandan Panna Cotta
Infuse panna cotta with the fragrant and vibrant green color of pandan leaves. Serve it with a coconut and palm sugar caramel sauce and garnish with shredded coconut and toasted sesame seeds.
Thai Tea Tiramisu
Swap out the traditional coffee in tiramisu for Thai iced tea. Layer the tea-soaked ladyfingers with mascarpone cheese and dust with a mix of Thai tea and cocoa powder.
Lemongrass and Ginger Sorbet
A refreshing and palate-cleansing sorbet infused with the zesty aroma of lemongrass and the warmth of ginger. Served in a coconut shell or a lemongrass stalk for an authentic touch.
Durian Mousse
For adventurous eaters, durian is known as the "king of fruits" in Thailand. A silky durian mousse, garnished with toasted coconut flakes and a drizzle of passion fruit syrup.
Thai Coconut Ice Cream Sandwich
Make coconut ice cream sandwiched between two homemade Thai-style cookies. These cookies can be filled with ingredients like peanuts, sesame seeds, or even chili peppers for a spicy flavour.
Lychee and Rosewater Tart
A delicate tart filled with lychee and rosewater-infused custard. Top it with fresh lychee and a sprinkle of edible rose petals.
Thai Basil and Lime Sorbet
Combine the herbal notes of Thai basil with the zing of fresh lime to create a vibrant and palate-cleansing sorbet. Garnish with a Thai basil leaf and lime zest.
Mung Bean Coconut Cake
A dense, sweet cake made from mung beans and coconut cream, often known as "Khanom Mo Kaeng." It's traditionally served in small squares and is a delightful way to end a Thai-inspired meal.
Tropical Fruit Sorbet Trio
A trio of sorbets featuring tropical Thai fruits such as rambutan, longan and passion fruit. Served in small bowls or shot glasses for a colorful and refreshing dessert.
These desserts can create a sweet and memorable conclusion to your dining experience. They also draw inspiration from Thailand's rich and diverse culinary traditions to create desserts that pay homage to the country's food culture. For those who are interested, you can come and try the premium omakase with delicious desserts at Yuzu Omakase.